AD LIB CELEBRATES ITS 10TH ANNIVERSARY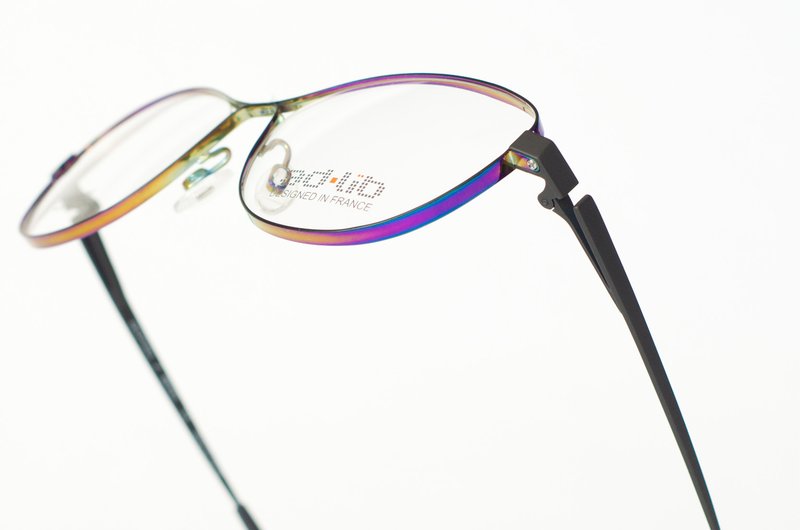 For the past decade, the Ad Lib brand, born and designed in Paris, has taken the best of Japanese technology and French design to reveal a collection of sophisticated and trendy eyewear that constantly seeks to reinvent the pairing of titanium and colour.
On this celebratory occasion, we created an iconic frame typical of the Ad Lib brand tradition. BRIA, our Ad Lib anniversary model, is the result of a research project on the colouring of glasses. Our goal was to make a frame that would highlight a unique surface treatment process that can literally sublimate raw titanium and, in doing so, perfectly illustrate the Ad Lib "Moving Colours" slogan.
After various tests, the multi-colour ion plating process proved to be our choice for the creation of our anniversary model BRIA. Iridescent and retro-futuristic in appearance, this technique does not require painting. The material, fresh from polishing, takes on the colours of a gradient, ranging from yellow to pink, passing through green and blue. The real plus of this treatment is that the colour variation changes randomly because the ionic plating cannot be reproduced identically on each model. The frames are then unique and look different from another. This defines BRIA, a concept where each frame is one-of-a-kind for the wearer.
Resonating more and more in the world of optics and eyewear, the topics of ecology and sustainable consumption were earnestly considered in the development of this project.
Lacquer & spray. Thanks to this unique ionization process, we have transformed the "classic" colouring step by reducing the use of spray and lacquer in favour of a more environmentally friendly process.

Sustainable styling. We wondered how to bring CSR and advertising together. In association with the futuristic theme of our frames, we were fortunate to be able to highlight the "Sustainable materials, solid seams" clothing collection by designer Noémie Devime. The clothing line used for the BRIA shoot is made entirely from recycled materials and handcrafted and locally made at the Atelier de la Créatrice in Paris. Ready-to-wear is made in France, in integration factories where the deft hands behind each piece offer clothing a new social and human factor.

Find out more about the complete "Story of Ad Lib" under the following link: CHARMANT Blog