SHADES OF LOVE – THE EYECARE PROJECT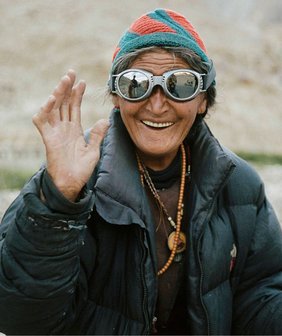 Happily, there are numerous non-profit organisations that have made it their business to make the world a little better – like Shades Of Love for example – an eyecare programme that was set up to protect the eyesight of people who live in regions of the world where, due to their geographic location, they are exposed to extremely high levels of UV radiation.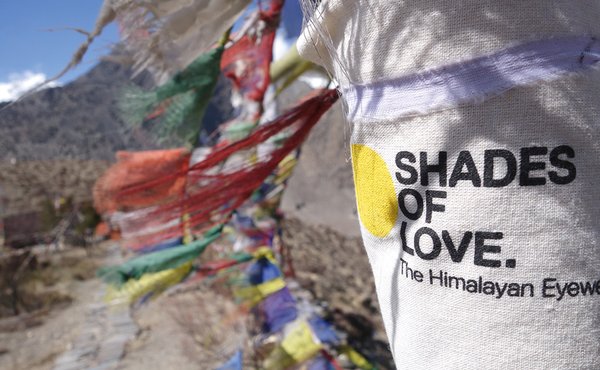 At CHARMANT we have been supporting this excellent cause for many years and are delighted to be working with the Shades Of Love team on the further success and ongoing expansion of the project. We talked to Niklas Huppmann, the co-founder of Shades Of Love, to find out more about the project and how it all began.
Niklas, how did the idea for Shades Of Love come about?
The idea arose when my friend Jürgen Altmann was on a trip to Ladakh, the highest plateau in India. He discovered that a large number of people living at these altitudes suffer from discernible eye problems. Cataracts, mutations and, in extreme cases, blindness are the consequences of excessive exposure to UV radiation. These conditions often lead to far-reaching problems such as incapacity to work and hence, loss of income.
The only upside to this terrible discovery was that the simple matter of wearing sunglasses can significantly help to prevent these eye disorders. Basic sunglasses, like the ones gathering dust in drawers in western countries such as Germany or France, can therefore literally change lives.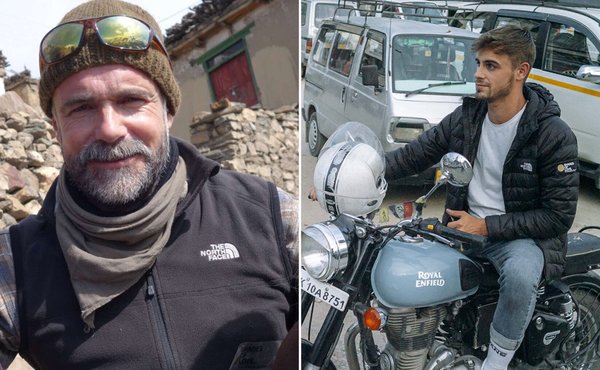 What is the vision of Shades Of Love?
Our vision is to ensure a global, social and sustainable recycling process that helps the approximately 18 million affected people in high mountain and Polar Regions.
In addition to this big vision, Shades Of Love is also about the individual moments that we experience during our travels, because we also do project work on the ground. For example, enabling an elderly woman in the Himalayas to see her grandchildren for the first time is incredibly moving and motivates us to keep going. We want to create as many such moments as possible and necessary.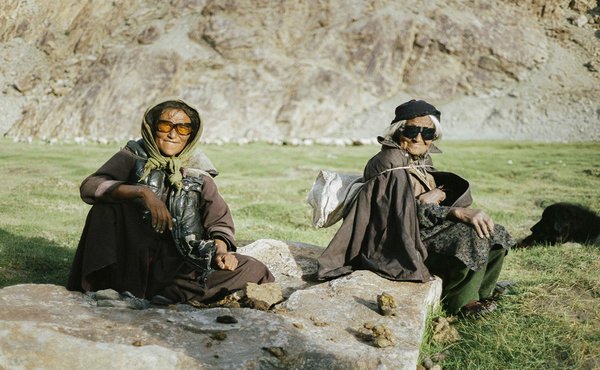 The project is growing steadily: you started in the Himalayan region in 2009, now the Andes and soon even the Arctic are some of the areas you work in. How do you go about developing a new region for Shades Of Love?
We open up new areas through our own research, consultation with the respective governments and through an estimate of the needs for the number of inhabitants.
As research we use radiation maps and statistics, for example from NASA, and we also pay attention to the development of the ozone hole. In the Arctic, for example, radiation deteriorates much faster and that's why we want to help there as soon as possible.
Do you have a network that supports your work on site?
Our network in the Himalayas consists of partner organisations, such as a Tibetan hospital that stores our sunglasses for us and distributes them to those in need. We also work with local ophthalmologists and monasteries to arrange so-called "eye camps". At these camps, over a hundred people can regain their eyesight in one day through eye operations.
We are now also working with trustworthy travel agencies who provide tourists with sunglasses on our behalf. The tourists then distribute the glasses in the most remote regions, in locations where we haven't yet been. These glasses are often the key to the world of the local populations and they offer the travelling tourist an opportunity to do something really worthwhile. This also provides a wonderful opportunity for the cultures to get to know each other.
What was one of the most beautiful and memorable experiences on your tours?
Everyone on our team has had countless wonderful and moving experiences. Whether it's being invited to drink tea with a family or to share a precious meal of grilled lamb, these gestures are a special honour that we are happy to receive.
The people who personally stay the most with me are the elderly people who are often the only ones still living in their villages. Children and grandchildren mostly move away and leave their homes in remote valleys to settle in lower-lying areas. This decision is made not least because of UV radiation and its effect on the quality of life.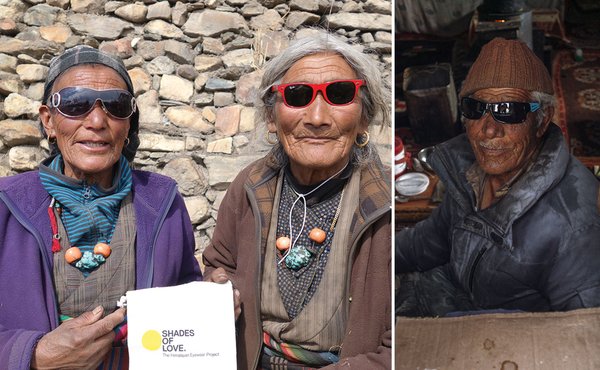 How do you plan out your tours?
Our tours are often very spontaneous. The evening before, the team sits down and looks at maps of areas where we haven't been before. Sometimes we don't even know whether we'll meet anyone there, as people are quite nomadic and move around a lot. Next morning, we pack as many glasses as we can fit (usually hundreds or thousands), jump onto motorbikes and take off. As soon as we see someone - sometimes from a distance – we stop, talk to them, find the right glasses and drive on. A daily route can take up to ten hours and is often very exhausting due to the heat, weather, altitude and the need to concentrate while driving.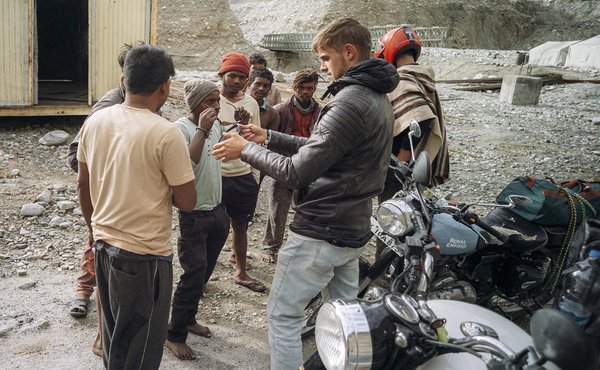 Are there statistics on how the spread of eye diseases has changed since Shades Of Love started?
Unfortunately, there are no such statistics. We would like to initiate that, but censuses or systematic feedback is often impossible to organise in the regions where we work. The authorities usually don't have access to the nomads. But it often happens that years later we come to valleys where we have already been and see people with sunglasses at work in the fields.
How many sunglasses are donated on average each year?
The number increases from year to year. In 2019 we received almost 100,000 pairs of glasses. This year, due to Covid, we have had to put the brakes on a bit. We are unable to travel due to global restrictions so at the moment, collecting glasses means putting them in storage which is costly. Shipping is not an option due to limited resources.
How do you finance yourselves?
We finance ourselves mainly through donations and our own events.
For anyone reading this and just getting to know Shades Of Love: Who can support you and how?
Anyone can support us. Right now, we primarily need financial support, as our warehouses are completely full and we urgently need to relieve the pressure. We are still happy to accept sunglasses, but donating additional money would be a blessing so that we can take the glasses to where they are needed.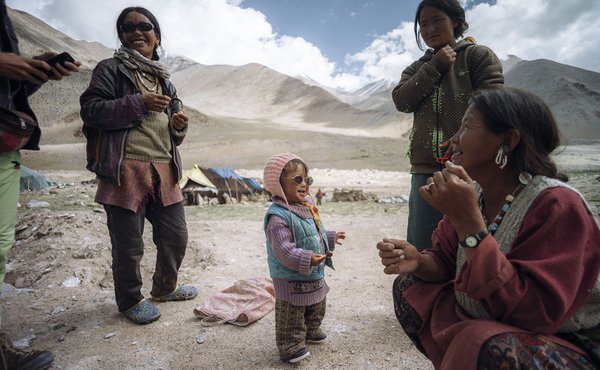 THERE ARE DIFFERENT WAYS TO SUPPORT SHADES OF LOVE
BECOME A MEMBER
The best way to support the Shades Of Love is to become a member yourself.
A single membership improves the health of around 2,500 people and, as a fixed annual donation, it helps the organisation to plan more effectively. That means that more glasses can be dispatched and more help provided to those who need it most.
As a member, not only are you making an important contribution, you also receive annual gifts, exclusive stories and can take part at the annual members' conference.
If you would like to help beyond the usual membership amount, there is also the option to become a patron for an entire valley. As a patron, you receive generous annual gifts from the local community and an annual Christmas gift from Shades Of Love.
If you would like to become a member, contact Niklas Huppmann by email: niklas(at)shadesoflove.org
DONATE SUNGLASSES
There is plenty of room for creativity here!
For example, some of our donors ask friends to give them old sunglasses for their birthdays instead of bottles of wine or other gifts. Others write emails to their colleagues and collect glasses in their offices. Local bakeries, schools, churches, neighbourhood communities, sports clubs and many other groups collect sunglasses to donate.
Every single pair of glasses is gratefully accepted and yes, even a cheap € 5 pair is welcome, as long as it provides at least category 3 or 4 UV protection.
You can send your donation glasses directly to Brillen Weltweit in Koblenz, the closest partner of Shades Of Love. There, every pair of sunglasses is inspected, cleaned and, if necessary, repaired.
DONATE MONEY
If you are not interested in becoming a member and paying a fixed annual fee, you can of course still support the project financially with an amount of your own choosing. Even a 20 £ donation helps over 200 people in remote areas.
100% of the donations are used to cover logistics, transport and marketing costs.
In some countries, all donations are tax deductible.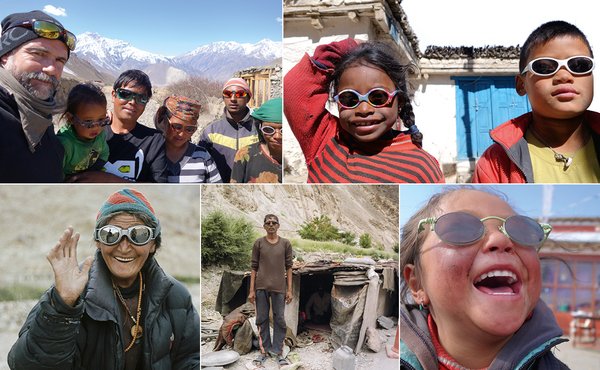 Further links:
If you want to learn more about Shades of Love, visit the website www.shadesoflove.org