FESTIVE MOMENTS WITH LINE ART EYEWEAR
Glitz, glitter, glamour - winter is the season for sophisticated elegance and the Line Art eyeglasses collection embodies this stylish mood beautifully: delicate details such as shimmering temples and curved elements transform these frames into true jewellery for the eyes. So why not stand out this season and treat yourself to a pair of high-quality glasses from Line Art?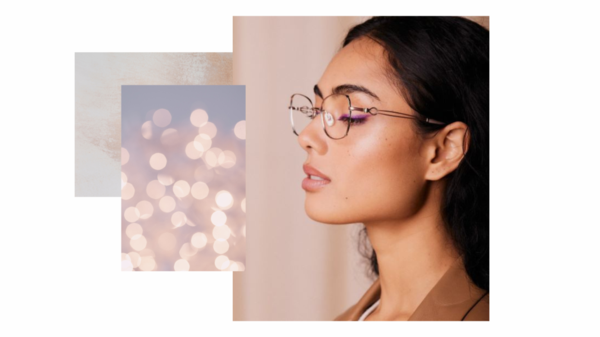 The perfect eyewear eye-catchers
The festive season is about to kick off. We can't wait for celebratory family gatherings, lively evenings with friends and stylish parties where we can reflect on the past months and usher in the new year. Time to take slip into our chicest dresses, don the high-end jewellery that's reserved only for very special occasions and put on the ritz. Last but not least, a fine pair of Line Art glasses to perfectly complement and enhance the elegant look.
Looking for some festive style tips? Our CHARMANT team is here to present their favourite models and tells us what makes Line Art frames the perfect eye-catchers.
Chic frames that are jewellery for the eyes
"In winter, I love strolling through Christmas markets, enchanted by the colourful lights, candles and festive smells. My favourite Line Art eyewear during the cold season is model number 2166 in the colour Wine. I like to wear theses glasses with a classy updo and a red lipstick. This really brings out the beautiful frame colour and the understated glitter on the temples, which sparkles gently with every turn of the head…"– Michaela, Deputy Support Manager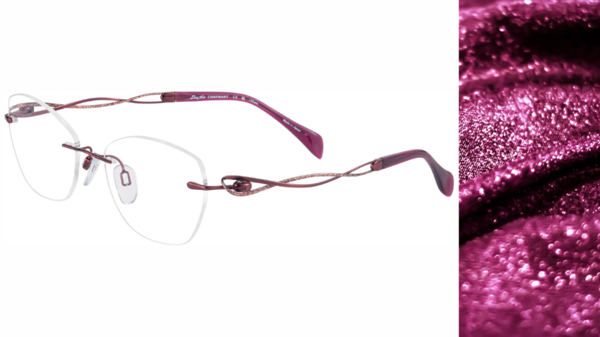 Elegant eyeglasses that fit beautifully
"My current favourite Line Art model is XL2157. As well as having all the great Line Art comfort features, this frame is extremely elegant, and it adds beauty to every stylish outfit - so it's THE go-to eyewear accessory for the festive season. I especially love this model in green because it reminds me of pine trees, which fits effortlessly with the Christmas season. I would pair these glasses with a very feminine outfit. On the festive days, I dress up in a pretty tulle skirt or a sequined dress." – Julia, Senior Marketing Manager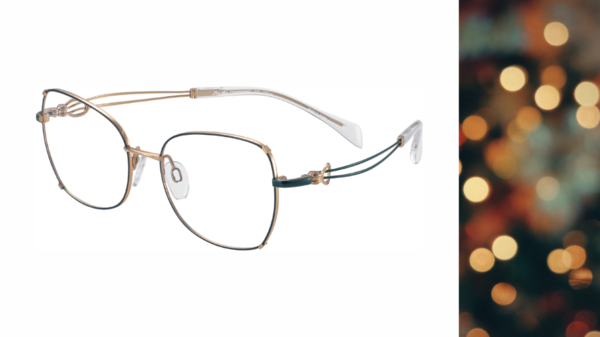 Shimmering frame temples that demand attention
"My favourite Christmas eyewear is Line Art model XL2117 in brown because of its elegance and wearability. These minimalist titanium eyeglasses give me maximum comfort. They have an angular, square-shaped design that expresses character with an elegant twist. There's a softly shimmering detail on the temples, which is a real eye-catcher. The brown style goes perfectly with the hot chocolates that I love to enjoy at this festive time of year." – Bonnie, Product Manager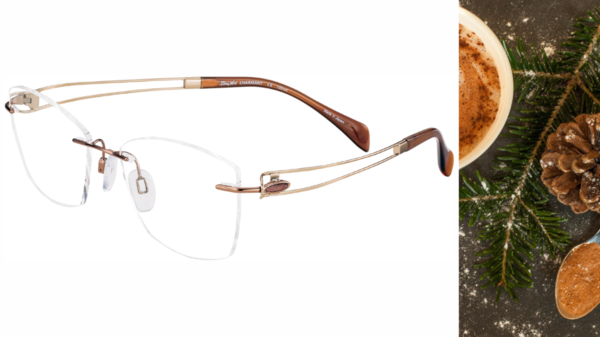 Filigree eyewear that dresses up every look
"Line Art model 2155 stands out for me because the gently curved temples give the glasses a filigree look, and the upper rim frames the eyes like a light eyeliner. A Line Art frame is a must for every dress-up festive occasion, but it's also a wonderfully elegant contrast when worn with casual wear. For example, I love taking walks in a wintry landscape and feeling the snow crunching beneath my feet. A cosy coat, warm scarf and a gorgeous Line Art frame are my essentials for this winter wonderland experience." – Waltraud, Customer Support.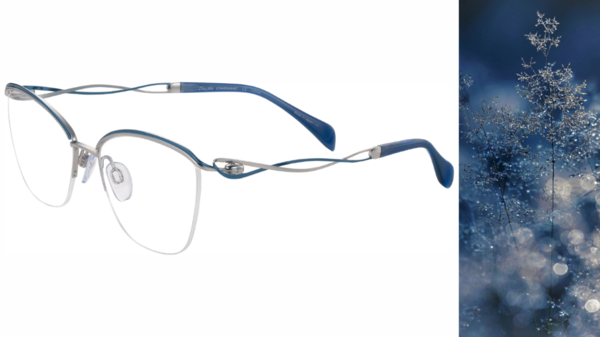 Luxurious beauty with comfort
Behind the graceful styling of a Line Art frame lies a highly sophisticated technical approach.
Thanks to Excellence Titan,™ a material that was specially developed by CHARMANT Group over an eight-year research and development phase, these premium glasses are unbelievably comfortable. Adjustable nose pads and finely contoured temple tips further enhance wearing comfort. Each of these feather-light frames is made in Japan and undergoes two hundred different manufacturing processes. All of this makes Line Art a uniquely sophisticated eyewear brand for lovers of beauty, comfort and excellence.