Opening Ceremony for New CHARMANT South Korean Subsidiary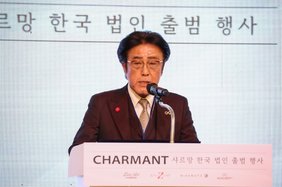 To further expand the CHARMANT business, the new wholly owned subsidiary in South Korea was founded for direct sales. Until now, the products were previously sold through distributors.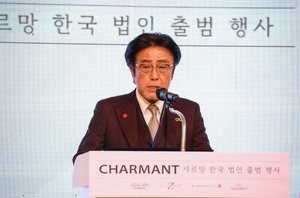 Masakiyo Honjo, President and CEO of CHARMANT Inc. declared:
"(…) By communicating directly with our customers, we wish to provide them with better products and speedier service and to strengthen our relationship with them even further. In particular, we are convinced that our flagship product — LineArt CHARMANT — has great potential in Korea as it has received high praise for its high wearing comfort."
To celebrate the unveiling of the subsidiary, an Opening Ceremony was held at Seoul to invite an estimated 80 guests, including Korean eyeglass industry executives, important customers, lens companies and financiers.
Besides the presentation of the company, the guests had the opportunity view and gain more knowledge on the collections, leading to some orders placed. During a pleasant buffet lunch, the day was musically accompanied by an a-capella band.
The event has received enthusiastic response and it was highly appreciated that CHARMANT headquarters came to recognize the new South Korean subsidiary.