VIVA MAGENTA: THE COLOR OF THE YEAR BRINGS OUT THE EYES
Our eyes discern wavelengths in reflected light, creating the different colors that we see. Color communicates to us like a visual language. It sends us messages that cross borders, generations and genders. Individual colors create feelings that can affect our moods. For example, red or yellow are perceived as warm tones that create excitement. Blue is cool and calming. Black is mysterious and associated with mourning in western cultures. White, on the other hand, is seen as pure. Ironically though, white is associated with mourning in some eastern cultures.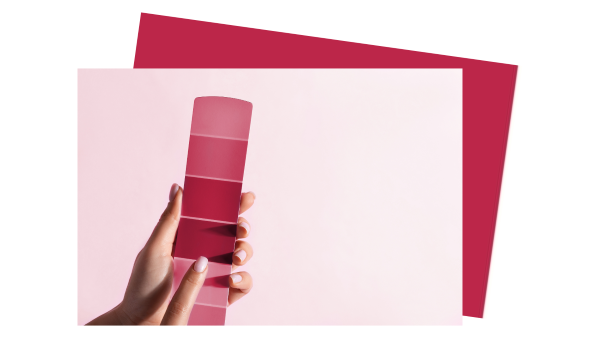 Color brings people together
Color can convey messages that are difficult to articulate with words alone. By understanding these messages, we can gain valuable insights into the perspectives of others and improve our communication. For example, during the yearly Holi Festival in India, colour is used to signify the start of spring and the victory of good over evil. People come together, regardless of belief or ethnicity, to celebrate by throwing red, yellow, blue and green powder at each other. Each color has a specific meaning: red stands for love while green for new beginnings.
What exactly is the color of the year?
The Pantone Color Institute is famous for its widely used colour system. The company plays a crucial role in shaping global color trends and advising companies on the strategic use of color. The institute launched the Pantone Color of the Year in the late 1990s to educate people about the relationship between culture and color. The annual color is selected by a global team of experts who search the world looking at trends and influences in world travel, fashion, film, social media or art, as well as drawing inspiration from new materials, technologies and current socio-economic conditions. The Pantone Color of the Year is a representation of the global culture at that specific moment in time, according to the vice president of the institute Laurie Pressman.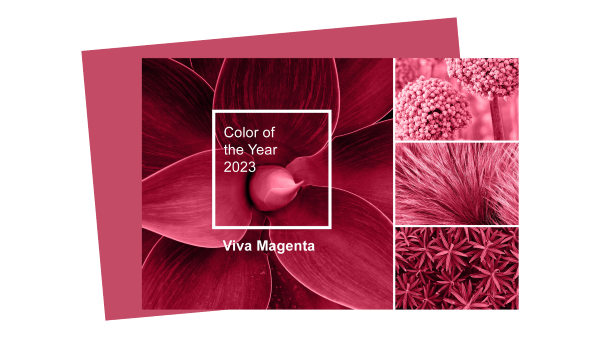 Viva Magenta is the color of the year 2023
Viva Magenta 18-750 was selected as color of the year 2023. It is a red shade with hints of crimson. This powerful tone is associated with fearlessness, joy and empowerment. The red of Viva Magenta connects us to nature and primeval strength. Viva Magenta's organic origins are the cochineal beetle, which produces carmine dye, one of the strongest and brightest natural dyes.
Viva Magenta looks great in fashion eyewear
As a leading international eyewear company, CHARMANT keeps a close eye on color trends. Viva Magenta is a warm tone that expresses passion and optimism. It is a color that pops out and makes its presence felt, whether as a statement fashion piece or elegant accessory, dramatic monochrome or in a lively print. Viva Magenta is wonderful in eyeglasses, drawing out the eyes and adding vibrant definition to face shapes and shades. Here are some top Viva Magenta eyeglasses selections.
EL13535 PK - These stunning ELLE glasses turn all heads and are perfect for accessorising business and weekend styles. The striking square rims are made of high-quality TR90. Elegant metal temples create a contemporary contrast. The color mix between fashionable vivid magenta and silver simply delights!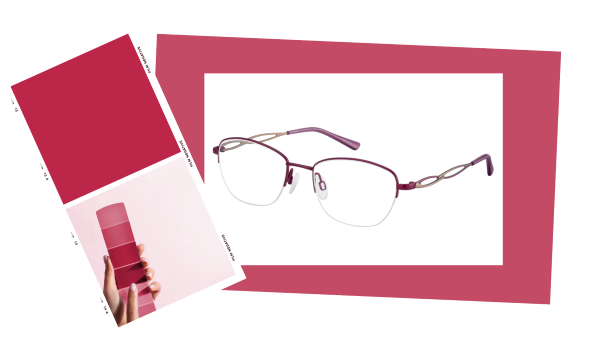 CH29837 RO - Hints of Viva Magenta are revealed in these light and feminine eyeglasses from the CHARMANT Titanium Perfection collection. Warm rose infuses the ornate temples and upper rims. The unique soft square shape gives a dynamic and light impression thanks to the nylor construction. The chain detail on the temples evokes timeless jewellery. This frame is fashioned from superior titanium and beta titanium, ensuring lightness and optimal comfort.