ELLE EYEWEAR LAUNCHES ITS MADE IN FRANCE SERIES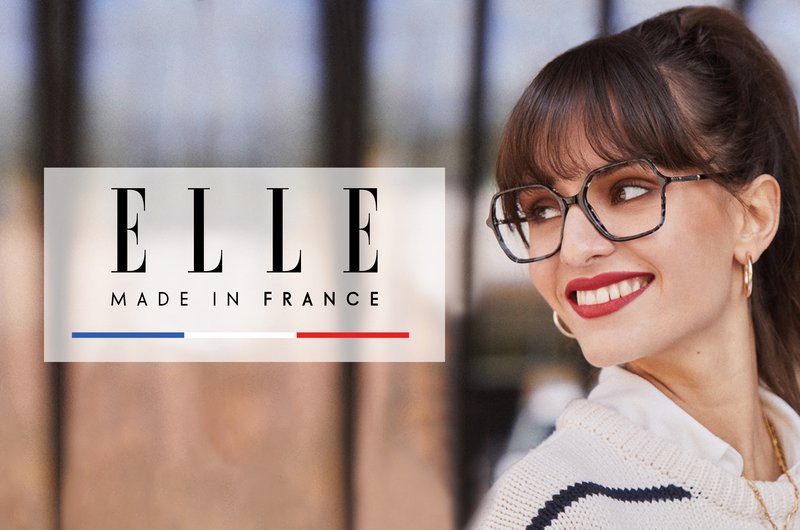 Since its creation in 1945, ELLE has delivered to women everywhere, in a language that is both positive and engaging, while providing them with the keys to thrive in a constantly changing world. Over the decades, this style brand has emerged as a true ally of women: ELLE is the standard bearer for their emancipation; ELLE listens to them and accompanies them daily in their journey towards strong and independent lives.
This fashion bible is a pioneer that, speaking a creative language, interprets the hottest trends with a free spirit imbued with joie de vivre - just like the ELLE woman. Clever and charming, she embodies the urban vibe of the French capital, moving between elegance and thoughtfulness, daring and seriousness but always with a unique and sparkling look.
This new Made in France collection, narrated by women, for women, pays tribute to the ELLE woman through high-quality French frames.
It was in Oyonnax that the ELLE Made in France collection was born. In the optical industry, Oyonnax is a true hallmark, synonymous with a rich tradition and great expertise. This cradle of French eyewear summons an exceptional artisanal know-how that has endured over centuries. Today, Oyonnax manufacturers put this expertise at the service of ELLE through high-quality frames, featuring beautiful finishing, pretty details, meticulous crafting and flawless polishing.
The models of the Made in France collection feature feminine and soft curves in ultra-trendy shapes: pantos, oversized, geometric and cat eye. The 10 new frames - 8 optical and 2 sunglasses - gracefully oscillate between sophistication and originality thanks to pretty creative accents that truly animate them.
Always inspired by the Parisian woman, these looks are resolutely elegant with excellent wearing comfort. The main material in the collection, acetate, is highly polished to make it both shiny and extremely soft. It comes in a wide variety of ultra-feminine colours.
The temples have been designed using four concepts, each with unique characteristics.

A metallic decorative effect with a herringbone pattern is inserted in the temples of two other models for a very chic impression. The connection between the acetate temple and the metal part is smooth, forming a single piece. Available in gold, silver or rose gold, this refined detail lends a subtle touch of elegance to undeniably feminine frames.

Cat eye shapes, graceful and harmonious curves, and very unique designs - these are the specific features of the following two frames: the first with flat metal temples, the second with acetate temples, are wavy, forming a slim design and delivering maximum comfort. A sheet gold or rose gold metal is slipped into the acetate front to highlight the eyebrow line through contrasting materials and colours.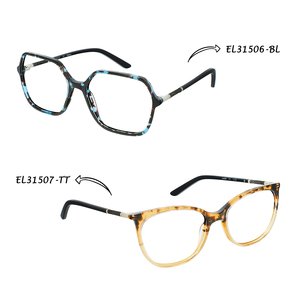 The final style in this collection is inspired by fireworks lighting up the sky over the capital on a national holiday. The temples are adorned with a lovely glittery detail while the acetate front comes in a multitude of attractive colours. Stylish and elegant, these frames brilliantly celebrate the Parisian spirit.
In pretty pouches, feminine and chic, these gorgeous frames are placed. Here again, ELLE advocates Made in France and has called on the French designer Claire Dartigues to create these cases to house and protect these precious made in France glasses. These attractive pouches were made in a specialized reintegration workshop.
Will you fall for our ELLE Made in France eyewear, a contemporary collection, highly qualitative, elegant and made in France?
Find the ELLE Made in France collection at your nearest optician!