UV PROTECTION FOR CHILDREN'S EYES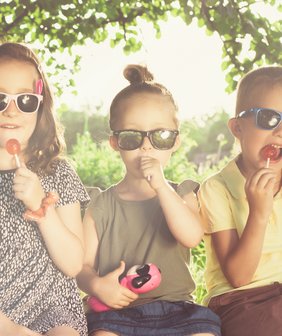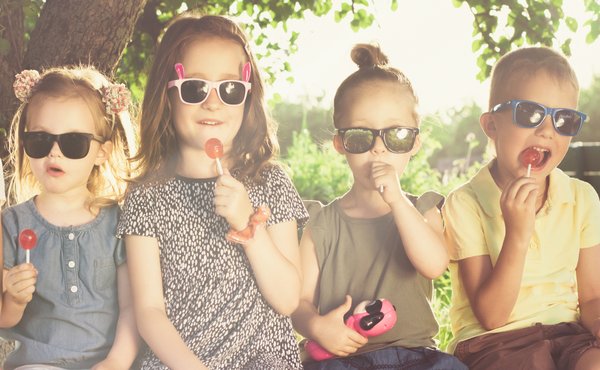 Children have clearer lenses than adults, meaning UV rays penetrate more deeply into their eyes, causing permanent damage to their retina. So there's no question about it: for children, proper sunglasses are a basic essential for preserving their eye health for as long as possible.
But which criteria are important when choosing the right sunglasses for children?

Effective UV protection for young eyes
To ensure that children's eyes are fully protected from UV light, their sunglasses should cover the eyes completely, ideally also at the sides.
The category of UV protection chosen depends very much on where the children spend their time. In places with very strong sunlight, such as in the mountains or at the beach, category 4 lenses are recommended. In places where the sun is only moderately strong, category 2 or 3 lenses are usually sufficient.
You can find out more about UV protection in our blog article HOW TO PROTECT YOUR EYES FROM UV RAYS.
Besides sunglasses, a wide-brimmed sun hat is also an effective safeguard for children's eyes and faces against direct ultraviolet radiation.
A must for children: scratch-resistant, robust and safe sunglasses
Playing and frolicking can get a bit hectic, and children's sunglasses should definitely be able to keep up with the fun. That's why it's important to make sure that the sunglasses material is scratch-resistant and break-proof, and that there are no sharp-edged components to cause injury should a child crash land on them.
In addition, the perfect, snug fit is essential so that the glasses don't slip or fall off with every movement.
When purchasing children's sunglasses, we suggest seeking expert help instead of buying them from discount stores or beach vendors. Opticians know exactly what is important when it comes to the quality of the sunglasses frame, lenses and hinges, and they also check to ensure the correct fit.
The right time for the first pair of sunglasses
First off, no matter what the season or the weather, invisible UV radiation is always there, even when the sky is overcast. This should be kept in mind at all times.
Babies can usually manage without sunglasses, as they are sufficiently protected by an umbrella or the roof of a pram or buggy, and parents usually know not to expose them to direct sunlight in any case. However, as soon as toddlers have outgrown the pram and start exploring the world on their own little legs, it's time to deck them out in sunglasses and sun hats.
Sunglasses for children with poor vision
As is the case with adult sunglasses, children's sunglasses can of course be fitted with prescription lenses. This is done at an optician's shop. Children who wear contact lenses can simply wear non-prescription sunglasses.
Children's sunglasses: don't forget how they look!

A child is their own person, so it's no surprise that many children have a pretty good idea of what they like and what they don't like, even at quite a young age. Make sure the glasses don't end up thrown in a corner by involving the child in the selection process - at the very least as far as the look of the glasses is concerned. That way, the kids will choose to wear their sunglasses and parent-child harmony is assured.
At CHARMANT, we also offer children's sunglasses, from Esprit. Check out this fun and safety first collection here.